Blog Analysis: TouchSuite Provides Useful Tips And Stories For Local Businesses
GhostBlogWriters.com wrote this article about TouchSuite's Blog. Great tips for other businesses to use and implement on their website.
---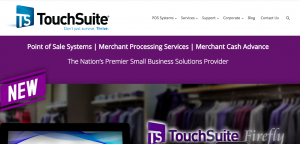 TouchSuite is making waves in the small business world.
The company provides point of sale software for small businesses especially those in the retail, restaurant and salon industries.
But this company seems to have lofty goals. It looks like they're working on ways to expand both into other industries and all small businesses, but also with other services and software.
It looks like TouchSuite is off and running. They're one of the fastest growing companies in the US as evidenced by their inclusion on the Inc. 500 list.
There is more to look if you're in need of point of sale software, but today we're going to look at what TouchSuite is doing to attract their target clients with a business blog.
1. A Great Number Of Posts
I went back and looked just at May for this first segment and counted 24 posts that TouchSuite posted during the month. That's a great number of posts for a business blog.
The frequency is always about finding a balance between a few things. You're looking for something that your company can handle and maintain. You're looking for a frequency that provides a good quality of information for your target customers – sometimes current customers, but mostly focusing on what new customers or potential customers would be interested in.
Usually that falls somewhere around 1-2 posts per week. That's what we've found at Ghost Blog Writers. In general, the more you publish the more success you'll have and the faster you'll have that success, but that's a general rule of thumb. There are exceptions.
The post have dropped a bit for TouchSuite in June, but we're only halfway through the month. Consistency with the posts is not required, but it's encouraged and makes it easy for regular sharing on social media and doing things like email newsletters.
2. How To Posts Are Some Of The Best For Business Blogs
TouchSuite adds in some how-to posts on their blog and these posts are really great for attracting and earning the trust of your potential customers.
Here is an example of one how-to post on how to enhance the experience for customers in a retail store. The post was a little different than what I was expecting when I clicked on it, but there were some really great points in it.
What I liked most were the stats included in the post and an industry quote from an expert talking about the important of point of sale software and the overall point of sale experience and how it can improve the customer's overall experience and feeling about the retail store.
This post is a good example of something I discuss with our clients at GBW. It's always a fine line of providing valuable information about your specific service and the information your customers are looking for. TouchSuite provides point of sale software so this probably leans a little on the sales side at first glance.
Usually you want to reserve the sales part of your website for the regular pages like the homepage and product page.
But I think this post works well because it has the stats and quotes. It provides a tip for retailers that point of sale might be more important than they think.
Usually what you might see with a how-to post is that a potential customer is looking for ways to enhance their customer experience. A business blog might provide a list of 5 or 10 ideas. That provides great value for the reader.
Then add a call to action at the end to get those readers learning more about your business, what you can offer them and they'll be working through your sales process that way.
3. Word Count And Formatting
A little note on word count here because it's another question we get often from people we talk to about blogging.
That last how-to post was about 500-600 words. That's actually right about in one of the sweet spots that we find for business blogs.
Our sweet spot is the 600-800 word range. It seems people are interested in reading posts that long. You can get some really good information in that space and it's actionable.
You can do the same with shorter and longer posts – provide good info that's actionable, but there's always a sweet spot and I think it's the 600-800 word range.
And a note on formatting. That how-to post was great, but it could be broken up a little bit. The paragraphs get a little chunky and big paragraphs can get intimidating to read. We always recommend breaking up those paragraphs a bit especially early in the post.
And easing headings to break up sections and things like that make the post more visually appealing and easier to read.
4. Announcements And Press Release Posts
You'll notice that a lot of the posts on the TouchSuite blog are announcements and press release style posts.
As we've discussed before, these are totally fine for a business blog. Your blog can be the official source of information that comes out about your company.
Any time you have new features, changes and things like that you can use your blog as the official source of the information. You can still have other publications cover the news and you can do things like press release services and things like that, but it's usually a good idea to have that type of content originated at your own website.
This way you get people coming to your blog to find that official information. You're obviously the trusted source on your own company and even new potential customers that stumble on your site maybe through a how-to post can learn about your company from reading these other announcement posts.
5. Changes In The Industry
If you sell to businesses then chances are very high that your target readers are always interested in major changes in the industry. And one of the major changes for local small businesses coming later this year is the change in credit card transactions.
TouchSuite touched on this point with a recent post and I'm sure they're going to touch on it more in the coming months as we come closer to the changes.
Anytime there are changes like this coming in your industry that will affect your customers it's a good idea to provide insight and a step-by-step guide on what the reader needs to do to be okay when the change occurs.
You may have read that with blogging you want to offer quality content. This is an example of quality content. It's helpful and provides the reader with a way to avoid pain in the future.
Conclusion
TouchSuite is doing some really great things with their business blog. They're posting often and writing the type of posts that their target readers will find interesting.
There are other things they could be doing with their business blog, but there are always opportunities. It looks like maybe the blog is still under a year old or right around a year old. So they're still getting started with things, but they're off to a great start.
It's an example of another company that is using a blog to help supplement all the other things they're doing to continue to grow and succeed.
---